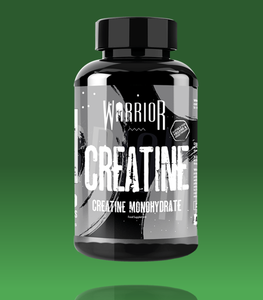 Warrior Creatine Tablets
The Warrior Supplements Essentials range brings you a range of products specifically selected to assist you in achieving and optimising a healthy lean physique. Supplying you with the best ingredients available. 

Warrior Creatine Monohydrate Tablets provides you with 1000mg of Pure Creatine Monohydrate in each tablet, the recommended consumption is 5g per day, these tablets allow you to easily measure and consume the optimal level for your body.
Serving Size: 5 Tablets
Servings Per Container: 12

Active Ingredients:
1000mg Creatine Monohydrate

Other Ingredients:
Microcrystalline Cellulose, Magnesium Stearate (binding agents)

Suggested use:
Take 5 tablets per day every day, there is no need to load or cycle these tablets. 
Warnings:
Warrior Creatine Monohydrate Tablets should be used as part of a balanced and varied diet. Do not exceed the recommended dose. Store out of reach of children. Please consult your doctor prior to use if you have a medical condition. Not recommended for pregnant or lactating women.
Allergens:
Produced in an environment that produces Milk, Egg, Soy, Wheat, Peanuts and Nuts