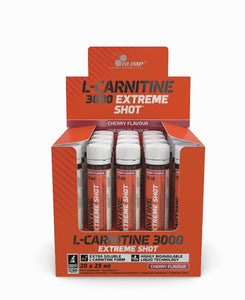 OLIMP NUTRITION L-CARNITINE 3000 EXTREME SHOT offers a massive dose of L-carnitine. The effect of L-carnitine is reinforced with additional vitamin B6 which allows for a synergism of activity with L-carnitine in the energy generation processes occurring during intensive physical effort.
The use of Liquid Technology increases the speed of absorption of the preparation's unique ingredients. The ampoule enables the instant absorption of L-carnitine and vitamin B6 into bloodstream, without the delay characteristic for tablets or capsules.
L-carnitine is a key element of the last phase of fat decomposition. It transports free fatty acids to the place of their final oxidation (mitochondria) where the energy accumulated in them is released, significantly increasing the exercise capacity of the body. Effective oxidation of free fatty acids guarantees that they will not be stored in the form of triglycerides, i.e. they will not increase the volume of fat tissue. Additionally, vitamin B6, which is found in a number of enzymes involved in metabolic conversion processes, directly participates in the metabolism of carbohydrates (production and decomposition of muscle glycogen) and fats, further intensifying the generation of energy. Vitamin B6 is crucial for the production of haemoglobin and, by participating in the production of antibodies, it improves the body's immunity.
| | | |
| --- | --- | --- |
| Nutrition value | per 1/2 of the ampoule (12,5ml) | per 1 ampoule (25ml) |
| L-carnitine | 1500 mg | 3000 mg |
| Vit. B6 | 1,4 mg (100%*) | 2,8 mg (200%*) |
*%RDA -  recommended daily allowance